Ad blocker interference detected!
Wikia is a free-to-use site that makes money from advertising. We have a modified experience for viewers using ad blockers

Wikia is not accessible if you've made further modifications. Remove the custom ad blocker rule(s) and the page will load as expected.
Welcome to the Pokecraft Wiki
Welcome to Pokecraft wikia: A combonation of minecraft and pokemon fanon. Make your own sprites and stories.Make your own games Creeper ect. Im henry and any bans WILL BE SERIOUS. aNYWAYS HAVE FUN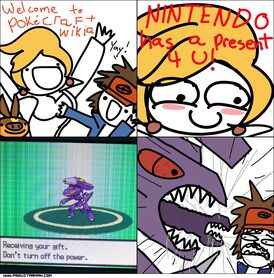 links ---> http://pokecraft.wikia.com/wiki/Wiki_Content
Rules
Obey these rules if not there will be consequences including bans!!!!!!!!!!!
No being rude
No spam
No dirty pictures
Have a good time
No begging for powers
If your an admin Dont ban people for no reeson
No your mom jokes
no deleting things!
ADMIN RULE: admin's must talk things through before making major decisions
No sexual content
you may comment without logging in
no constantly asking to be admin. there has to be a reason, and other admins have to decide.
No giving out personal information
Latest activity
Photos and videos are a great way to add visuals to your wiki. Find videos about your topic by exploring Wikia's Video Library.