Welcome to the Pokecraft Wiki
Welcome to Pokecraft wikia: A combonation of minecraft and pokemon fanon. Make your own sprites and stories.Make your own games Creeper ect. Im henry and any bans WILL BE SERIOUS. aNYWAYS HAVE FUN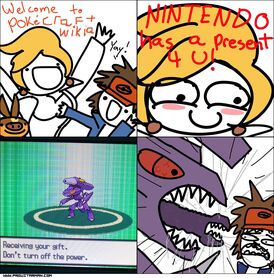 links ---> http://pokecraft.wikia.com/wiki/Wiki_Content
Rules
Obey these rules if not there will be consequences including bans!!!!!!!!!!!
No being rude
No spam
No dirty pictures
Have a good time
No begging for powers
If your an admin Dont ban people for no reeson
No your mom jokes
no deleting things!
ADMIN RULE: admin's must talk things through before making major decisions
No sexual content
you may comment without logging in
no constantly asking to be admin. there has to be a reason, and other admins have to decide.
No giving out personal information
Latest activity
Photos and videos are a great way to add visuals to your wiki. Find videos about your topic by exploring Wikia's Video Library.